YI Love Jewish to Present THE LINCOLN CONTINENTAL By Kathy Kafer
The play tells the story of a father, a daughter and the car that drives their relationship over three decades.
YI Love Jewish will present their next installment in the YI Love Play Reading Series: "The Lincoln Continental" by Kathy Kafer. The reading will be presented by The Miami Beach Jewish Community Center at the Galbut Family Miami Beach JCC Simkins Family Campus (4221 Pine Tree Dr, Miami Beach, FL, 33140) and is sponsored by the University of Miami's Miller Center and Feldenkreis Program for Contemporary Judaic Studies.
Read more...
'Joe Papp at the Ballroom' offers an up-close look at a legend

Joe Papp would have turned 100 this year, it is a good time to pay homage to the late legendary producer. His philosophical tenant was "theater for all." Actually, Papp believed that live theater should be like the public library — free and open to all.

Read more...
YI Love Jewish To Present THE GOSPEL ACCORDING TO JERRY

This funny, poignant new play takes a hard-hitting look at contemporary values, Jewish – African American relations, stereotypes, and spirituality.
Read more...
Avi Hoffman Pays Tribute To Theater Icon Joseph Papp

Attention must be paid, to steal a line, and Avi Hoffman is ensuring that proper homage is paid to Joe Papp, the visionary who intersected art and community by making theater accessible to the general public in comprehensibility, neighborhood performances and free admission.
Read more...
THEATER LEGEND SINGS AND REMINISCES IN GABLESTAGE WORLD PREMIERE
The GableStage world premiere of "Joe Papp at the Ballroom" aims to remind audiences of the influential impresario's legacy. (Graphic courtesy of GableStage)
Just looking at actor-singer Avi Hoffman — creator and star of the popular "Too Jewish" shows, as well as a Carbonell Award winner for playing the adoring hubby in "Hairspray" at Actors' Playhouse — you wouldn't necessarily think of casting him as visionary New York Shakespeare Festival founder Joseph Papp.
Read more...
As Chanukah is a season of miracles for Jews all around the world, the Yiddishkayt Initiative (YILoveJewish.org), is presenting a virtual Chanukah Mini Fest from Nov. 28- Dec. 5 with a lineup of entertainment and educational programming that is nothing short of miraculous.
Read more...
Jamaal Bowman meets Yair Lapid in Israel • The new Jew on 'Succession' • Writer Stuart Schoffman dies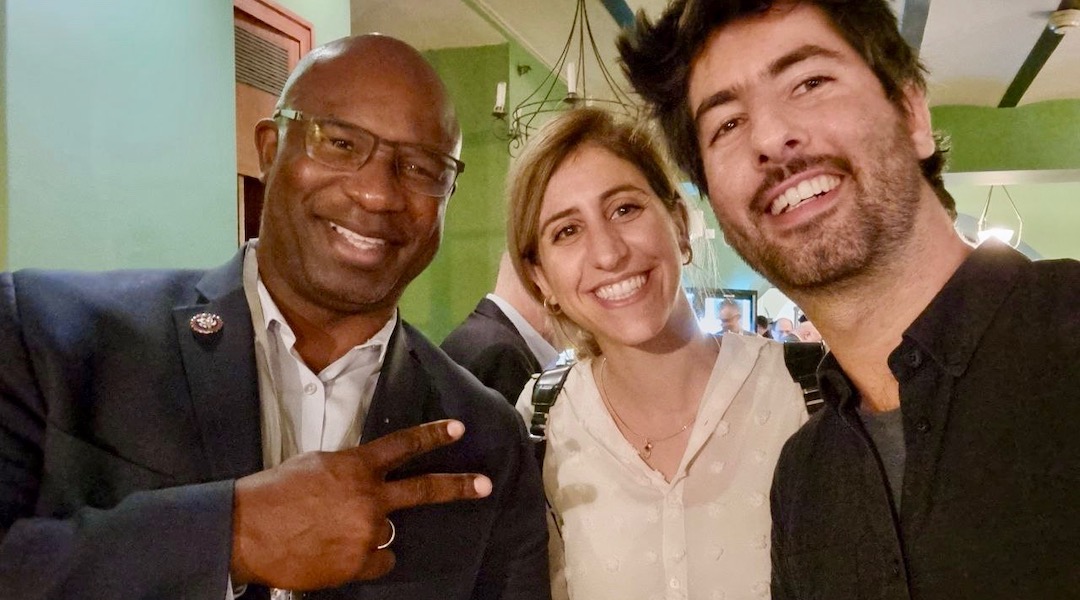 Read more...
Krystallnacht – The Night of Broken Glass
Read more...
Single-Ticket Sales Are Available Now From GableStage With Streaming Options
For the first time, select productions will become available for streaming during the second week of performances.

Read more...
YI Remembers… Announces World-Premiere Play Reading Of Yale Strom's THE EDUCATION OF HERSCHEL GRYNSZPAN
The Education of Herschel Grynszpan, based on true historic accounts, is a story about two passengers sharing a train from Krakow to Warsaw on November 1, 1938

Read more...
International YI LOVE YIDDISHFEST 2021 To Feature Live and Virtual Online Events
The programming for the YI Love YiddishFest will consist of a wide variety of events over seven days.
Learn More
L'Chaim
Jewish Culture Organization Opens Headquarters In Coral Springs
YI Love Jewish said they are thrilled to spread its mission of creating, learning, and engaging with Jewish culture in Coral Springs.
The non-profit organization just opened its headquarters inside Office Evolution of Coral Springs, thanks to the franchise owner, Mark Mendel.
Read More
Celebrating 'Yosl': Joe Papp at 100