YI Love Jewish names Mark W. Glickman, CFRE as New Executive Director
Coral Springs, Florida – Y I Love Jewish, a division of The Yiddishkayt Initiative, is pleased to announce that they have engaged Mark W. Glickman, CFRE as their new Executive Director.
Glickman has been a professional fundraiser for more than 40 years. He has held positions with Next Generations of Holocaust Survivors, Jewish Theological Seminary, American Friends of Magen David Adom, United States Holocaust Memorial Museum, Friends of AKIM USA, Simon Wiesenthal Center, Wachovia Trust and the Centre for the Arts at Mizner Park in Boca Raton.
From 1990-2004, Glickman was the Executive Director of the Jewish Community Foundation of South Palm Beach County. During his tenure, the Foundation increased
its current and deferred assets from $18 million to $164 million.
He is a past president of the Greater Boca Raton Estate Planning Council, the Planned Giving Council of Palm Beach County, and of the Palm Beach County Chapter of the Association of Fundraising Professionals. He is also the founding president of the Board of the Master Chorale of South Florida and a past Executive Vice President of B'nai Torah Congregation in Boca Raton. He was honored in 2001 as the Outstanding Professional Fundraiser of the Year for Palm Beach County.
Based in Coral Springs, Florida, The Yiddishkayt Initiative is a global force for celebrating and promoting Jewish history, life and culture and their positive, far-reaching impact on the world. The 501(c)(3) non-profit organization was founded in 2015 by award-winning actor and Jewish Culture activist Avi Hoffman, and his mother, Professor Miriam Hoffman, a world-renowned scholar of Jewish and Yiddish culture, and staffed by experts in both subject matter and production, from performing arts, publishing and education to language, philosophy and literature. To learn more about Y I Love Jewish, visit www.YILoveJewish.org.
GableStage presenting BOCA a not-to-be-missed comedy
GableStage is presenting Boca by Jessica Provenz, a not-to-be-missed comedy about how a group of saucy retirees come together in the fictional gated community of Royal Oasis in Boca Raton.
Directed by Julianne Boyd, the legendary artistic director of the Berkshire's Barrington Stage Company, Boca continues to May 22 and is available for streaming from Apr. 27 to May 22.
Described as "funny and… surprisingly touching" by The Wall Street Journal, Boca delivers laughs.
Pictured (l-r) are cast nembers: Deborah Kondelik, Barbara Bonilla, Robert Zukerman, Beverly Blanchette and Avi Hoffman.
(GableStage photo by Magnus Stark)
Read more...
ROM 2ND AVENUE TO TIMES SQUARE – HOW THE YIDDISH THEATER INFLUENCED BROADWAY
On this episode my guest is acclaimed actor, singer, writer, producer and director Avi Hoffman who specializes in Jewish culture and Yiddish theater. His long running off-Broadway "Too Jewish" trilogy has been seen by millions on PBS and at theater venues around the world, and in 2016 he received rave reviews and a Drama Desk nomination for his performance as "Willy Loman" in the Yiddish language production of Death of Salesman. He is also the founder and CEO of the Yiddishkayt Initiative — a non-profit organization dedicated to preserving Jewish culture.
Read more...
'Joe Papp at the Ballroom' offers an up-close look at a legend

Joe Papp would have turned 100 this year, it is a good time to pay homage to the late legendary producer. His philosophical tenant was "theater for all." Actually, Papp believed that live theater should be like the public library — free and open to all.

Read more...
YI Love Jewish To Present THE GOSPEL ACCORDING TO JERRY

This funny, poignant new play takes a hard-hitting look at contemporary values, Jewish – African American relations, stereotypes, and spirituality.
Read more...
Avi Hoffman Pays Tribute To Theater Icon Joseph Papp

Attention must be paid, to steal a line, and Avi Hoffman is ensuring that proper homage is paid to Joe Papp, the visionary who intersected art and community by making theater accessible to the general public in comprehensibility, neighborhood performances and free admission.
Read more...
THEATER LEGEND SINGS AND REMINISCES IN GABLESTAGE WORLD PREMIERE
The GableStage world premiere of "Joe Papp at the Ballroom" aims to remind audiences of the influential impresario's legacy. (Graphic courtesy of GableStage)
Just looking at actor-singer Avi Hoffman — creator and star of the popular "Too Jewish" shows, as well as a Carbonell Award winner for playing the adoring hubby in "Hairspray" at Actors' Playhouse — you wouldn't necessarily think of casting him as visionary New York Shakespeare Festival founder Joseph Papp.
Read more...
As Chanukah is a season of miracles for Jews all around the world, the Yiddishkayt Initiative (YILoveJewish.org), is presenting a virtual Chanukah Mini Fest from Nov. 28- Dec. 5 with a lineup of entertainment and educational programming that is nothing short of miraculous.
Read more...
Jamaal Bowman meets Yair Lapid in Israel • The new Jew on 'Succession' • Writer Stuart Schoffman dies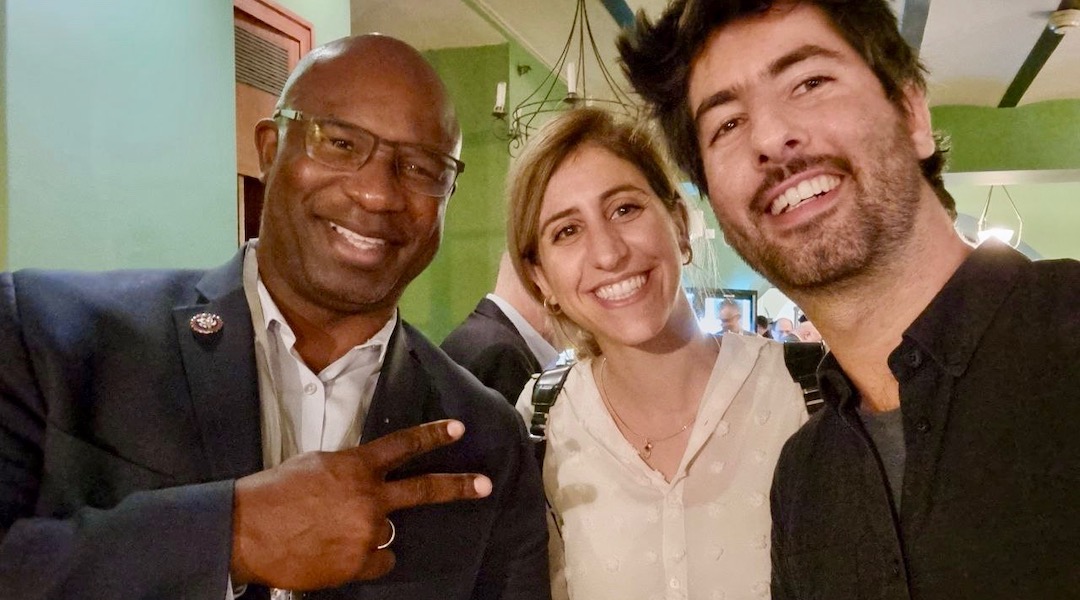 Read more...
Krystallnacht – The Night of Broken Glass
Read more...
Single-Ticket Sales Are Available Now From GableStage With Streaming Options
For the first time, select productions will become available for streaming during the second week of performances.

Read more...
YI Remembers… Announces World-Premiere Play Reading Of Yale Strom's THE EDUCATION OF HERSCHEL GRYNSZPAN
The Education of Herschel Grynszpan, based on true historic accounts, is a story about two passengers sharing a train from Krakow to Warsaw on November 1, 1938

Read more...
International YI LOVE YIDDISHFEST 2021 To Feature Live and Virtual Online Events
The programming for the YI Love YiddishFest will consist of a wide variety of events over seven days.
Learn More
L'Chaim
Jewish Culture Organization Opens Headquarters In Coral Springs
YI Love Jewish said they are thrilled to spread its mission of creating, learning, and engaging with Jewish culture in Coral Springs.
The non-profit organization just opened its headquarters inside Office Evolution of Coral Springs, thanks to the franchise owner, Mark Mendel.
Read More
Celebrating 'Yosl': Joe Papp at 100